Crystal-Barrel@ELSA experiments
For results of the CB-ELSA experiment, please, refer to the publications section.
More information on future projects and upgrades can be found here.


CB-ELSA/TAPS (TR 16) (measuring 2005-...)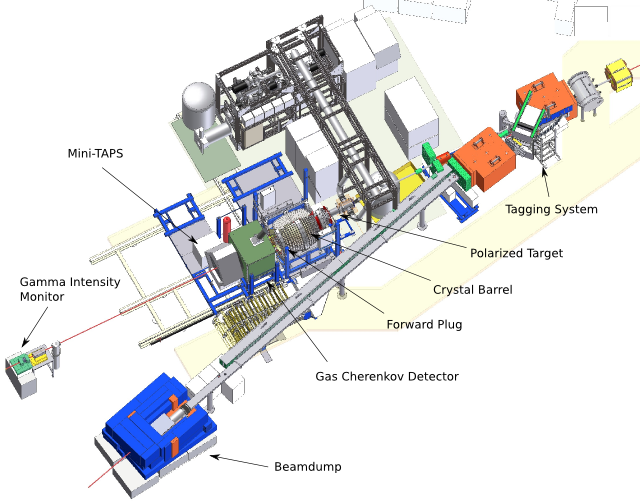 CB-ELSA TR16 experimental setup.
The new beam times are currently being planned. The major changes for the new beam times include:
Availability of linearly and circularly polarised photons after moving to the new experimental area
The three rings of crystals in forward direction are combined in a new detector with fast triggering capabilities and charged particle vetos in front of the crystals.
Mini-TAPS and MOMO for the very forward angles
Polarised targed (butanol)
New tagging system

Forward detector plug and Mini-TAPS

CBELSA/TAPS (measuring 2001-2003)


For CBELSA/TAPS, the forward three rings of the Crystal Barrel were removed and TAPS was positioned in forward direction.
Availability of polarised beam photons using bremsstrahlung off a diamond crystal
New tagging system with better resolution and high rate stability: Scintillating fibres were implemented to replace upper MPWC (higher rates, better resolution).
Fast forward triggering capability and better resolution using TAPS, greater coverage of solid angle than with the Crystal Barrel alone
Triggering: TAPS, inner detector, FACE
Targets: LH2, LD2, C, Ca, Nb, Pb
For results of the CBELSA/TAPS experiment, please, refer to the publications section.

CB-ELSA (measuring 2000-2001)


The characteristics of the experiment were:
Incident electron beam energies of up to 3.2 GeV
Photons produced by bremsstrahlung of amorphous copper radiator
Energy determination of scattered electrons in dipole spectrometer. The tagging system consisted of a large magnet and the tagging hodoscope (14 scintillators for timing, 352 wires in two proportional chambers for spatial resolution).
Tagged photon energies between 25 and 95% of the incident electron energy
Liquid hydrogen target
Inner scintillating fibre detector for charged particle identification consisting of 513 fibres arranged in three layers with different orientations with respect to the beam: parallel, +25°, -25° (helix).
Time-of-flight walls in forward direction (θ < 12°)
Photon detector for flux determination (lead mineral oil Cherenkov)
Triggering: Hit in tagging system, multiplicity in final state >2 (3), proton in inner detector or TOF
The CB-ELSA experiment used the Crystal Barrel in its original arrangement.